Hamilton's Bakery's
Products & Services
Quantities large or small, please just give us a call!
519-245-0741
We feel we can conquer almost any feat in this industry. In keeping with this mission, we offer a wide variety of services. No job is too big or small, as we treat each project with the same meticulous attention to detail.
If you have more specific service-related questions, please contact us. We'd love to hear from you.
We invite you to complete the contact form and then we'll be able to call or email you with the information you've requested. We strive to understand and exceed your expectations.
BREADS
White, 75% Whole Wheat, Light Rye, Pumpernickel, Marble Rye, Exclusive Northern Edge Flaxseed, 9 Grain, Sourdough, Goodhearth (fermented)
FRUIT BREADS
Tube Loaves: Cherry, Mixed Glace Fruit, Cinnamon Sugar Double Raisin (Regular Loaf) Cheese (see restrictions)
ROLLS
Parkerhouse, Butter Rolls (white only) Plain rolls (2 styles), Mini Subs, Wholegrain Torpedoes, Hamburg Flats, Hot Dog Tea Biscuits, Date Bran Muffins, Sweet Rolls: Raspberry, Cinnamon-Raisin, Chop Suey, Chop Suey Loaf
Please allow 48 hours notice for large quantities of these items.
10 flavours of regular Cookies with more seasonal choices.
Also Meringue Kisses
8 flavours of Squares & Bars with more seasonal choices
5 flavours of Tarts regularly available
5 types of French Pastries available Thursday – Saturday (more if ordered before Wednesday)
7 flavours of Pie
(check for restrictions)
Apple and Raisin Pie Squares
Sausage Rolls
Meat Pies
Very Special Cakes for
Every Special Occasion!
Space prevents us from listing everything we do.
Please call for more info.
SEASONAL ITEMS WHEN AVAILABLE
Pumpkin Pies & Tarts
Mince Meat Tarts & Pies
Rhubarb Pies
Tourtiere
Famous Vanilla
Decorated Cutout Cookies
(cut-outs available by order)
CHRISTMAS
Huge variety of Cookies including Gingerbread House Kits
(part's standing or complete)
Decorated Boys, Girls & Bears
Homemade Christmas Cake, Plum Pudding, Stollen, Almond Rings, Kringle, Florentine, Shortbread, etc.
Easter Deluxe Hot Cross Buns, Meringue & other unique treats.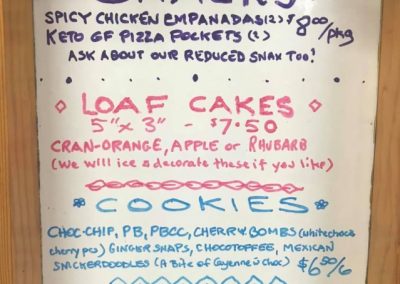 We stock a Unique selection of Gluten Free Goods. Made by Christine's Gluten-free Goodies. Locally sourced. Homemade, handmade… the way would do it ♥️with love Plus some manufactured practical items individually wrapped for your convenience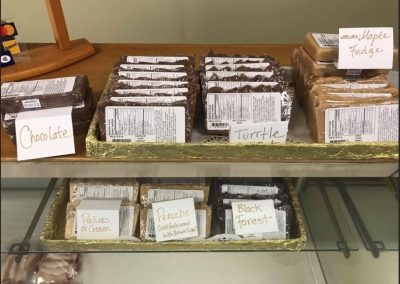 Mmmmmfuuudgggge Made with real ingredients using copper kettles this is traditional fudge at its best. Bought to you from Waterloo-Brittles and More and the Fudgery Shop